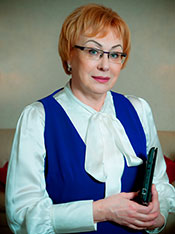 Dear students!
State Institution "Dnipropetrovsk Medical Academy of the Ministry of Health of Ukraine" is one of the recognized higher medical educational institutions of Ukraine, widely known center of medical education and science in our country and abroad. In century-long history the academy has worked long and innovative way up to one of the biggest modern medical institution in Ukraine.
A productive work of many years has form traditions of highly-qualified specialist training and prestigious scientific schools. Academy has a set system of measures aimed at highly-qualified medical professional education, scientific researches in experimental and clinical medicine, new medical technologies, diagnostics and treatment implementation.
Practical healthcare and medical scientific achievements are impossible without every-day highly responsible and hard work of young doctors. Our graduates are the pride of healthcare system in our country. Since the day of our institution foundation more than 50000 medical specialists have graduated from the academy.
The most valuable acquisition of the institution is our faculty, its wide recognition in Ukraine and all around the world. Our academy is a modern multilevel system of integrated continuous training in such specialties as general medicine, pharmacy, stomatology, starting from general educational subjects up to higher doctorate.
Dnipropetrovsk medical academy has a great experience in foreign citizens' medical training. Alumni of International faculties successfully prove high educational rating of the academy in 50 countries of the world.
Celebrating our 100th anniversary Dnipropetrovsk medical academy is glad to enforce student family with talented youth able to create and develop our great history.
Tetyana O. Pertseva
Rector,
Corresponding Member of National Academy of Medical Sciences of Ukraine,
Doctor of Medical Sciences, Professor