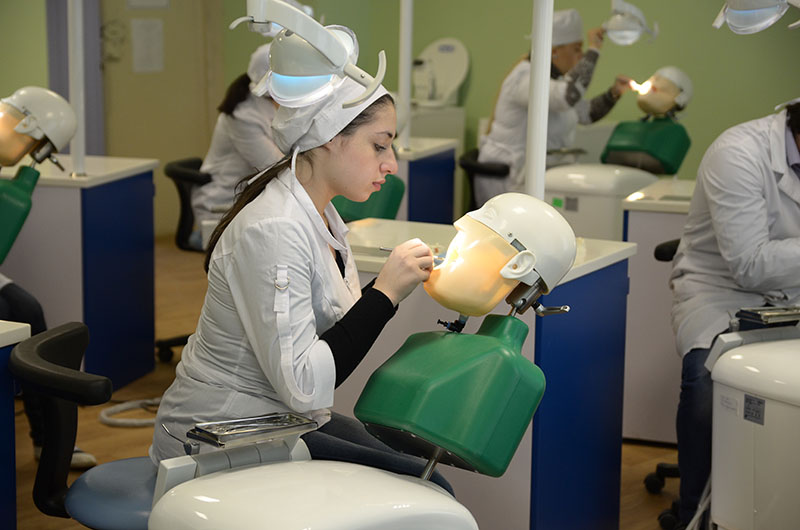 The modern history of dental faculty at Dnipropetrovsk Medical Academy begins since 1963. The outstanding surgeon professor Mashchenko S.M. became the organizer and the first dean. More than 10 thousand dentists graduated in academy for the expired years.
Today training of dentists is carried out at two stages: undergraduate and postgraduate.
Training lasts 5 years, further there is an internship - 2 years and a clinical internship - 2-5 years.
Preparation is conducted at five profile dental departments: therapeutic stomatology, orthopedic stomatology, children's stomatology, a parodontology and implantology and at department of stomatology of faculty of postgraduate education.
All departments are headed by skilled and recognized professors-doctors of science. During training eight profile disciplines are taught: therapeutic stomatology, orthopedic stomatology, surgical stomatology, plastic and reconstructive surgery, prevention of dental diseases, children's therapeutic stomatology, children's surgical stomatology and orthodontics.
Students receive theoretical knowledge and practical skills on the basis of audiences and clinical halls of academy equipped with the most up-to-date educational and dental equipment, phantom complexes, radiological installations, auxiliary devices.
All students are provided with the hostel. The big library stock of scientific, educational and periodic literature provides qualitative theoretical base of educational process
1st course tuition fee 2019-2020 academic year
Ukrainian language - 108 611 UAH / 3 998 USD
Foreign language (English, French) - 114 407

UAH

/ 4 211

USD

Pre-study language course – 33 779

UAH

/ 1 244

USD
---