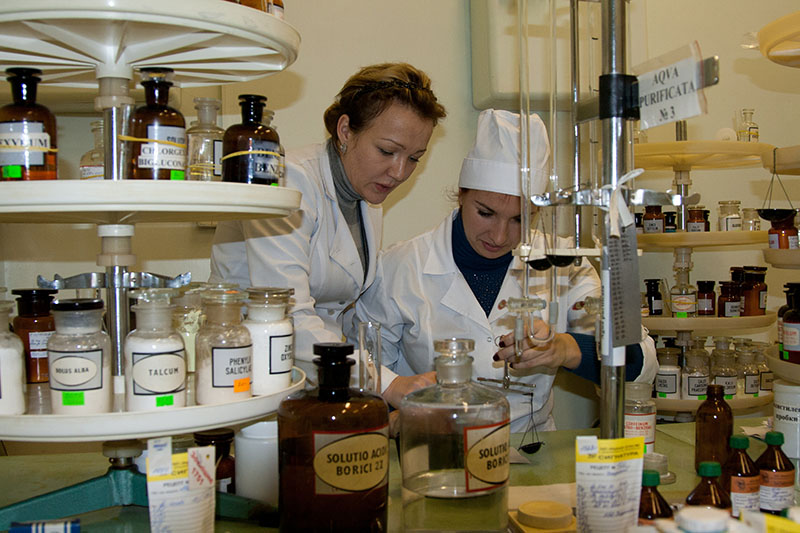 Preparation in a pharmaceutics is carried out since 2001. In a pharmaceutics masters-pharmacists study. They can work in medical institutions (drugstores, the pharmaceutical enterprises).
The term of training at full-time form - 5 years. Since 2019 there is entered the specialty "Technology of perfumery cosmetics" which will allow graduates to work in pharmaceutical, cosmetology and cosmetic institutions and also in monitoring bodies of cosmetic and perfumery quality and safety, at the enterprises of the perfumery and cosmetology industry.
The academy trains pharmacists at two profile departments: biochemistry and medical chemistry, general and clinical pharmaceutics. Post graduate education is carried out at the pharmaceutical institutions subordinated to Ministry of Health of Ukraine and at faculty of postgraduate training.
On the first two year students study fundamental sciences, the humanities and begin to get acquainted with pharmacy, studying "Introduction to Pharmacy". Since the second year students plunge into the world of flora, have classes in city parks, collecting medicinal herbs. Studying of clinical pharmacology is carried out on clinical bases of academy. On classes in pharmaceutical technology students under observation and the guide of the teacher prepare pharmaceutical dosage forms.
1st course tuition fee 2019-2020 academic year
Ukrainian language - 88 990 UAH / 3 276 USD
Pre-study language course – 33 779

UAH

/ 1 244

USD
---